Posts for tag: dental injuries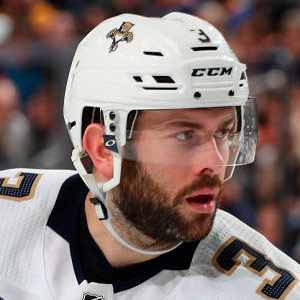 Professional Hockey player Keith Yandle is the current NHL "iron man"—that is, he has earned the distinction of playing in the most consecutive games. On November 23, Yandle was in the first period of his 820th consecutive game when a flying puck knocked out or broke nine of his front teeth. He returned third period to play the rest of the game, reinforcing hockey players' reputation for toughness. Since talking was uncomfortable, he texted sportswriter George Richards the following day: "Skating around with exposed roots in your mouth is not the best."
We agree with Yandle wholeheartedly. What we don't agree with is waiting even one day to seek treatment after serious dental trauma. It was only on the following day that Yandle went to the dentist. And after not missing a game in over 10 years, Yandle wasn't going to let a hiccup like losing, breaking or cracking nearly a third of his teeth interfere with his iron man streak. He was back on the ice later that day to play his 821st game.
As dentists, we don't award points for toughing it out. If anything, we give points for saving teeth—and that means getting to the dentist as soon as possible after suffering dental trauma and following these tips:
If a tooth is knocked loose or pushed deeper into the socket, don't force the tooth back into position.
If you crack a tooth, rinse your mouth but don't wiggle the tooth or bite down on it.
If you chip or break a tooth, save the tooth fragment and store it in milk or saliva. You can keep it against the inside of your cheek (not recommend for small children who are at greater risk of swallowing the tooth).
If the entire tooth comes out, pick up the tooth without touching the root end. Gently rinse it off and store it in milk or saliva. You can try to push the tooth back into the socket yourself, but many people feel uneasy about doing this. The important thing is to not let the tooth dry out and to contact us immediately. Go to the hospital if you cannot get to the dental office.
Although keeping natural teeth for life is our goal, sometimes the unexpected happens. If a tooth cannot be saved after injury or if a damaged tooth must be extracted, there are excellent tooth replacement options available. With today's advanced dental implant technology, it is possible to have replacement teeth that are indistinguishable from your natural teeth—in terms of both look and function.
And always wear a mouthguard when playing contact sports! A custom mouthguard absorbs some of the forces of impact to help protect you against severe dental injury.
If you would like more information about how to protect against or treat dental trauma or about replacing teeth with dental implants, please contact us or schedule a consultation. To learn more, read the Dear Doctor magazine articles "Dental Implants: A Tooth-Replacement Method That Rarely Fails" and "The Field-Side Guide to Dental Injuries."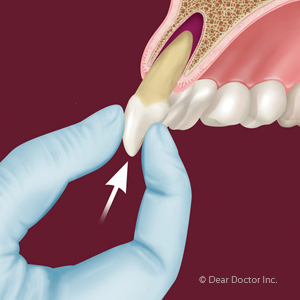 Mouth injuries in children and teens are more common than you might think: about one out of three boys and one out of four girls will have experienced an injury before they graduate from high school. Besides contact sports, other types of accidents like car crashes or falls are high on the cause list.
Although most dental injuries aren't considered true emergencies, there are a few where prompt action may mean the difference between ultimately saving or losing a tooth. One such situation is a knocked out tooth.
In the event of a knocked out (or avulsed) tooth, your primary goal is to place the tooth back into the empty socket as quickly as possible. Teeth that have been out of the mouth for less than five minutes have the best chance of reattachment and survival. The first step is to quickly locate the missing tooth.
Once you've found it, use only cold, clean water run or poured over the tooth to carefully clean off dirt or debris (no soaps or cleansers). You should also avoid touching the tooth root or scrubbing any part of it. After cleaning it of debris, gently place the tooth back in its socket, then immediately contact us or visit an emergency room. While you're en route to our office the patient should carefully hold the tooth in place. If the tooth can't be immediately placed into the socket (the patient is unconscious, for example), then you should place the tooth in a clean container and keep it moist with cold milk, a sterile saline solution or even the patient's saliva.
Taking these steps increases the chances of a successful re-implantation, although the injury may ultimately affect the tooth's lifespan. Replanted teeth can suffer from root resorption (where the root tissue dissolves) or a process known as ankylosis in which the tooth fuses directly to the jawbone with no healthy periodontal ligament in between. Either of these conditions can lead to tooth loss.
Still, it's worthwhile to try to save the tooth, even if for a few more years. Those extra years can help you prepare for a future restoration.
If you would like more information on responding to dental injuries, please contact us or schedule an appointment for a consultation. You can also learn more about this topic by reading the Dear Doctor magazine article "Accidental Tooth Loss."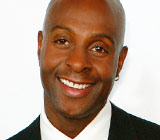 As a Pro Football Hall of Famer and first runner up on the hit television show Dancing with the Stars, Jerry Rice has a face and smile that truly has star quality. However, that was not always the case. During an interview with Dear Doctor magazine, the retired NFL pro discussed his good fortune to have had just a few minor dental injuries throughout his football career. He went on to say that his cosmetic dentist repaired several of his chipped teeth with full crowns. Rice now maintains his beautiful smile with routine cleanings and occasional tooth bleaching.
If you have chipped, broken or missing teeth, or are considering a smile makeover, we want to know exactly what you want to change about your smile, as the old adage is true: Beauty is in the eyes of the beholder. This is one reason why we feel that listening is one of the most important skills we can use during your private, smile-makeover consultation. We want to use this time to ensure we see what you see as attractive and vice versa so that together we can design a realistic, achievable blueprint for your dream smile.
For this reason, we have put together some questions you should ask yourself prior to your appointment:
What do you like and dislike about the color, size, shape and spacing of your teeth?
Do you like how much of your teeth show when you smile and when your lips are relaxed?
Are you happy with the amount of gum tissue that shows when you smile?
Do you prefer a "Hollywood smile" with perfectly aligned, bright white teeth, or do you prefer a more natural looking smile with slight color, shape and shade variations?
To learn more about obtaining the smile you want, continue reading the Dear Doctor magazine article "Great Expectations — Perceptions In Smile Design." Or you can contact us today to schedule an appointment so that we can conduct a thorough examination and discuss your cosmetic and restorative dentistry treatment goals. And if you want to read the entire feature article on Jerry Rice, continue reading "Jerry Rice — An Unbelievable Rise To NFL Stardom."