Posts for tag: crown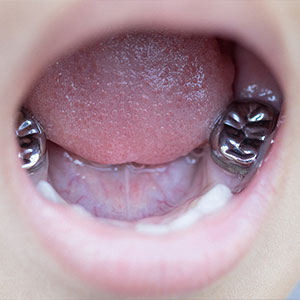 One of the key elements in a child's development is their first set of teeth. Although primary ("baby") teeth last only a few years, they're critically important for enabling a child to eat solid foods, speak and smile.
But they also provide one more important benefit—they hold the space in the jaw reserved for the permanent teeth developing just under the gums until they erupt. But if a child loses a primary tooth prematurely because of disease or injury, other teeth may drift into the vacant space and crowd it out for the intended permanent tooth. It may then come in misaligned or remain stuck within the gums (impaction).
To avoid this, we try to treat and preserve a diseased primary tooth if at all practical. For a primary molar, one of the large teeth in the back of the mouth, this might include capping it with a stainless steel crown.
Why a metal crown? Primary molars normally don't fall out until around ages 10-12, so it may be years for a younger child before their permanent molars erupt. All during that time these particular teeth will encounter heavier biting forces than teeth in the front.
A steel crown is often the best solution for a molar given their longer lifespans and encountered biting forces. The crown's metal construction can stand up to these forces while still protecting the tooth from re-infection from decay. And because molars are typically outside of the "smile zone" occupied by more visible front teeth, the crown's metal appearance isn't usually an aesthetic issue.
Crowning a molar usually takes one visit, a dentist typically performing the procedure with local anesthesia and possibly a mild sedative like nitrous oxide gas ("laughing gas"). After removing any decayed structure from the tooth, the dentist will then fit a pre-formed crown over the remaining structure, sized and shaped to match the original tooth as close as possible.
A stainless steel crown is a cost-effective way to added needed years to a primary molar that could otherwise be lost prematurely. Preserving it may help a child avoid bite problems and expensive future treatments.
If you would like more information on dental care for primary teeth, please contact us or schedule an appointment for a consultation. You can also learn more about this topic by reading the Dear Doctor magazine article "Stainless Steel Crowns for Kids: A Safe and Effective Way to Restore Primary Molars."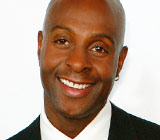 As a Pro Football Hall of Famer and first runner up on the hit television show Dancing with the Stars, Jerry Rice has a face and smile that truly has star quality. However, that was not always the case. During an interview with Dear Doctor magazine, the retired NFL pro discussed his good fortune to have had just a few minor dental injuries throughout his football career. He went on to say that his cosmetic dentist repaired several of his chipped teeth with full crowns. Rice now maintains his beautiful smile with routine cleanings and occasional tooth bleaching.
If you have chipped, broken or missing teeth, or are considering a smile makeover, we want to know exactly what you want to change about your smile, as the old adage is true: Beauty is in the eyes of the beholder. This is one reason why we feel that listening is one of the most important skills we can use during your private, smile-makeover consultation. We want to use this time to ensure we see what you see as attractive and vice versa so that together we can design a realistic, achievable blueprint for your dream smile.
For this reason, we have put together some questions you should ask yourself prior to your appointment:
What do you like and dislike about the color, size, shape and spacing of your teeth?
Do you like how much of your teeth show when you smile and when your lips are relaxed?
Are you happy with the amount of gum tissue that shows when you smile?
Do you prefer a "Hollywood smile" with perfectly aligned, bright white teeth, or do you prefer a more natural looking smile with slight color, shape and shade variations?
To learn more about obtaining the smile you want, continue reading the Dear Doctor magazine article "Great Expectations — Perceptions In Smile Design." Or you can contact us today to schedule an appointment so that we can conduct a thorough examination and discuss your cosmetic and restorative dentistry treatment goals. And if you want to read the entire feature article on Jerry Rice, continue reading "Jerry Rice — An Unbelievable Rise To NFL Stardom."