Posts for: January, 2015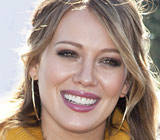 Many Hollywood luminaries use porcelain veneers to enhance their smiles. Take actress and singer Hilary Duff, who, according to People magazine, had veneers placed on her two front teeth after chipping them on a microphone during what must have been an extremely energetic performance.
Well, you don't have to be a Hollywood star to benefit from a smile enhanced with porcelain veneers. If you have small chips, cracks, slight tooth rotations or minor spacing problems, veneers may be able to give you back your smile — or an even better one.
The word "veneer" refers to a super-thin covering, and in dentistry a veneer is a thin layer of porcelain that replaces your natural tooth enamel. Porcelain is the material of choice because of its strength, translucency, and ability to resist erosion.
In the right hands, dental porcelain can mimic tooth enamel perfectly. To make veneers, a skilled dental technician will mix porcelain powder (in a shade specified by the dentist) with water and then fire the material in an oven like pottery; the porcelain is built up in layers for a truly lifelike effect.
Before a veneer is bonded to a tooth, often we need to remove a tiny bit of the tooth's existing enamel so that the final effect will not be too bulky. The procedure is virtually painless and can be completed in as little as two visits. Because enamel is removed, this particular cosmetic treatment is not reversible. Sometimes veneers can be added directly onto the tooth surface without any tooth reduction and therefore are reversible if used in this way.
Once you have veneers, please keep in mind that while extremely strong, porcelain veneers are not indestructible; you won't want to do things like crunch ice or break nuts open with your teeth. And if you are a teeth-grinder, you should wear a nightguard to protect your beautiful new smile. With proper care, your veneers will last 20 years or more.
If you would like more information about porcelain veneers, please contact us or schedule an appointment for a consultation. You can also learn more by reading the Dear Doctor magazine article "Smile Design Enhanced With Porcelain Veneers." Dear Doctor also has more on "Cosmetic Dentistry: A Time For Change."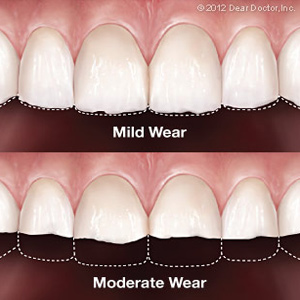 Teeth are naturally strong and durable — if we can prevent or control dental disease like tooth decay or gum disease, they can last a lifetime. Still, teeth do wear gradually as we age, a fact we must factor into our dental care as we grow older.
Sometimes, though, the wear rate can accelerate and lead to problems much earlier — even tooth loss. There are generally four ways this abnormal wear can occur.
Tooth to tooth contact. Attrition usually results from habitual teeth grinding or clenching that are well beyond normal tooth contact. Also known as bruxism, these habits may occur unconsciously, often while you sleep. Treatments for bruxism include an occlusal guard worn to prevent tooth to tooth contact, orthodontic treatment, medication, biofeedback or psychological counseling to improve stress coping skills.
Teeth and hard material contact. Bruxism causes abrasion when our teeth regularly bite on hard materials such as pencils, nails, or bobby pins. The constant contact with these and other abrasive surfaces will cause the enamel to erode. Again, learning to cope with stress and breaking the bruxism habit will help preserve the remaining enamel.
Chronic acid. A high level of acid from foods we eat or drink can erode tooth enamel. Saliva naturally neutralizes this acid and restores the mouth to a neutral pH, usually within thirty minutes to an hour after eating. But if you're constantly snacking on acidic foods and beverages, saliva's buffering ability can't keep up. To avoid this situation, refrain from constant snacking and limit acidic beverages like sodas or sports drinks to mealtimes. Extreme cases of gastric reflux disease may also disrupt your mouth's pH — seek treatment from your medical doctor if you're having related symptoms.
Enamel loss at the gumline. Also known as abfraction, this enamel loss is often caused by receding gums that expose more of the tooth below the enamel, which can lead to its erosion. Preventing and treating gum disease (the leading cause of receding gums) and proper oral hygiene will lower your risks of receding gums and protect tooth enamel.
If you would like more information on tooth wear, please contact us or schedule an appointment for a consultation. You can also learn more about this topic by reading the Dear Doctor magazine article "How and Why Teeth Wear."